The Billie Holiday Theater and Bridges: A Pan Afrikan ARTS Movement Present: PULSE: a poetry and music offering connects to the core of our being. Visiting South African poets collaborate with South African musicians and youth performers in Brooklyn in pursuit of collective healing and transformation. Poetry and music – both as art forms and as mediums for healing – make possible the intergenerational conversations that activate and embody what we are not hearing. Listen to your body, your pulse, and listen as the divine black feminine holds memory through language.
Featuring
South African poets: vangile gantsho and MoAfrika wa Mokgathi
South African musicians: PitsiRa Yamabala, Yoli Zama, Lesedi Ntsane
4 the people – youth performers: Kai Diata Giovanni, Malcolm Melendez, Sundiata Gittens, Emilio Gittens
Tickets:
$40 includes book & general admission
$25 general admission
$15 student with ID rate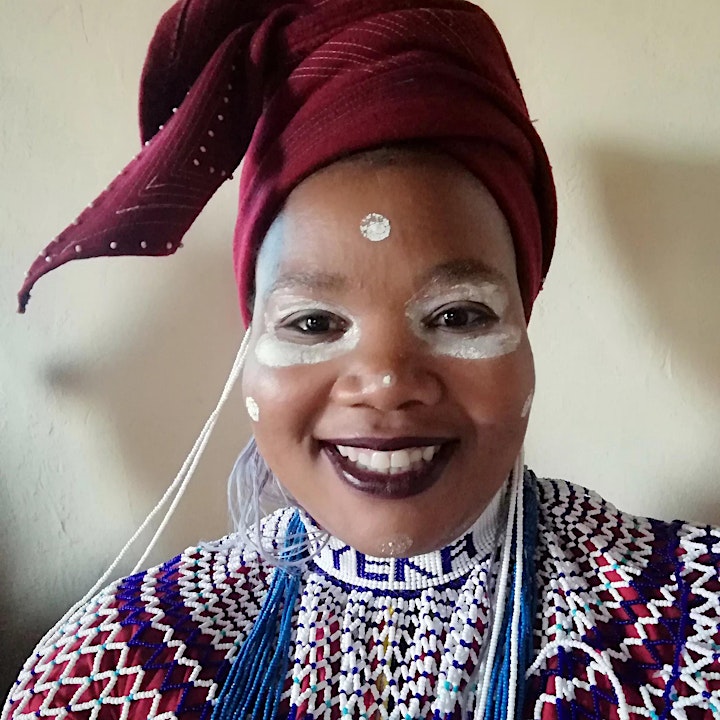 vangile gantsho
vangile gantsho is healer, poet and co-founder of impepho press. She is the author of two poetry collections: red cotton (2018) and Undressing in Front of the Window (2015). She holds an MA, with distinction, from the University Currently Known as Rhodes (2016) and is a graduate of the Thabo Mbeki African Leadership Academy (Pioneer Class). She was named one of Mail& Guardian's 2018 Top Young 200 South Africans. Her poetry has been published in various literary publications, including Years of Fire and Ash – South African Poems of Decolonisation (2021) New Daughters of Africa (2019), The Atlanta Review (2018), and her collection, red cotton, was named City Press Top Poetry Read of 2018, and long-listed for the National Institute for the Humanities and Social Sciences 2020 Award. gantsho has participated in, curated and produced national and international programmes both virtually and in person since 2004. She is Livulile's mama and is passionate about using the voice as a tool to help build confidence and open doors. As a teaching artist, she has worked with organisations on three continents and continues to dedicate herself to creating and/or supporting spaces that encourage (black) feminine visibility and healing.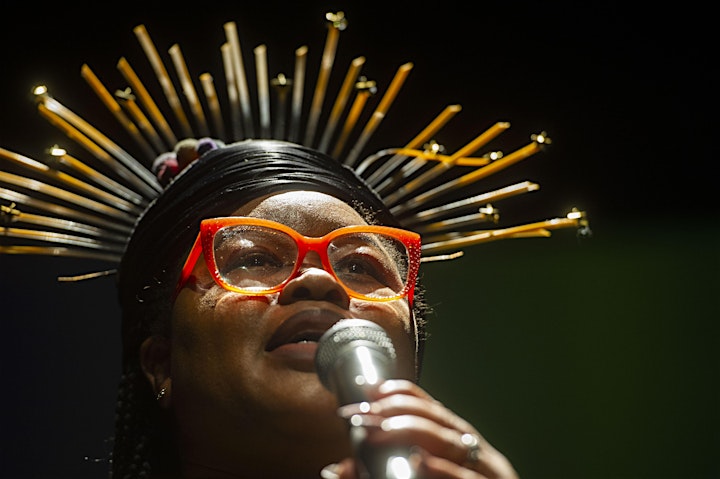 MoAfrika wa Mokgathi
MoAfrika wa Mokgathi is a poet, singer, curator, teaching artist and a serial civic leader. She is co-founder of Hear My Voice NPO based in South Africa, the author of My Tongue is a Rainbow (2019) and co-curated the Nobel Peace Prize Week (Stockholm 2022). wa Mokgathi has co-curated multiple HMV partner programmes including the EUNIC spaces of culture: Right to speak project lead by Goethe Institute (JHB 2022); and is co-founder and co-curator of the South African Saxophone Symposium (2020). She was named one of the Mail & Guardian's 2020 Top Young 200 South Africans, completed an Honours Postgraduate Certificate in Creative Writing from Wits University (2019); and is an alumni of YALI RLC (2017) and the VANSA Cultural Leadership Programme (2021/2022). wa Mokgathi has shared her poetry physically and online in China, Sweden, Nigeria, Mozambique and the USA – where she launched her collection, My Tongue is a Rainbow, in Washington DC during the 2019 Azania to DC Tour. Music collaborators include Nduduzo Makhathini and Gabi Motuba. She is currently working on a music and poetry album.
Kai Diata Giovanni
Kai Diata Giovanni is a 17 year old poet and performer who published "The Words that Need to be Heard," their first book of poetry, at 13 years old. At 15, Kai won first place in the Brooklyn Public Library's high school writing competition, and was a finalist in the New York Teen Poetry Slam. She has also organized and performed as an artivist (artist-activist) with A New Black Arts Movement, ARTE, and Bridges: A Pan African Arts Movement. Kai has also been a featured performer at the Blue Note, the Brooklyn Children's Museum, and a variety of other venues in NYC.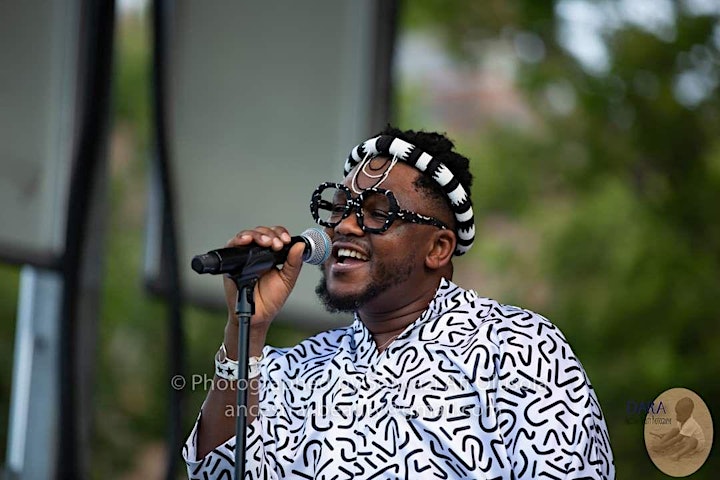 PitsiRa Ya Mabala
PitsiRa Ya Mabala, a music innovator, African Studies teacher, entrepreneur and cultural organizer. The dynamic rhythms, and thoughtful lyrics pushes beyond boundaries of conventional music genres to create a new style of music, Afrosoul which he defines as "African-Pedified Rhythmic tunes". PitsiRa is rooted in and influenced by Afrikan culture and spirituality (Kemetic way of life) YaMabala is a Soul Spirit of the Universe, his music and his songs which are firmly rooted and influenced by Afrikan culture, spirituality, and contemporary sound helps to heal and gives hope for greener tomorrows. For over ten years he developed his sound, performing throughout Johannesburg, South Africa. He moved to Brooklyn NY in 2018 bringing the phenomenal music flavor to New York City. In the Summer of 2022 PitsiRa YaMabala and his band headlined at The International African Arts Festival in Brooklyn and The Wakanda Festival in Mount Vernon. In January 2023 he was a featured artist in the opening of the Nelson Mandela Stadium in Algeria.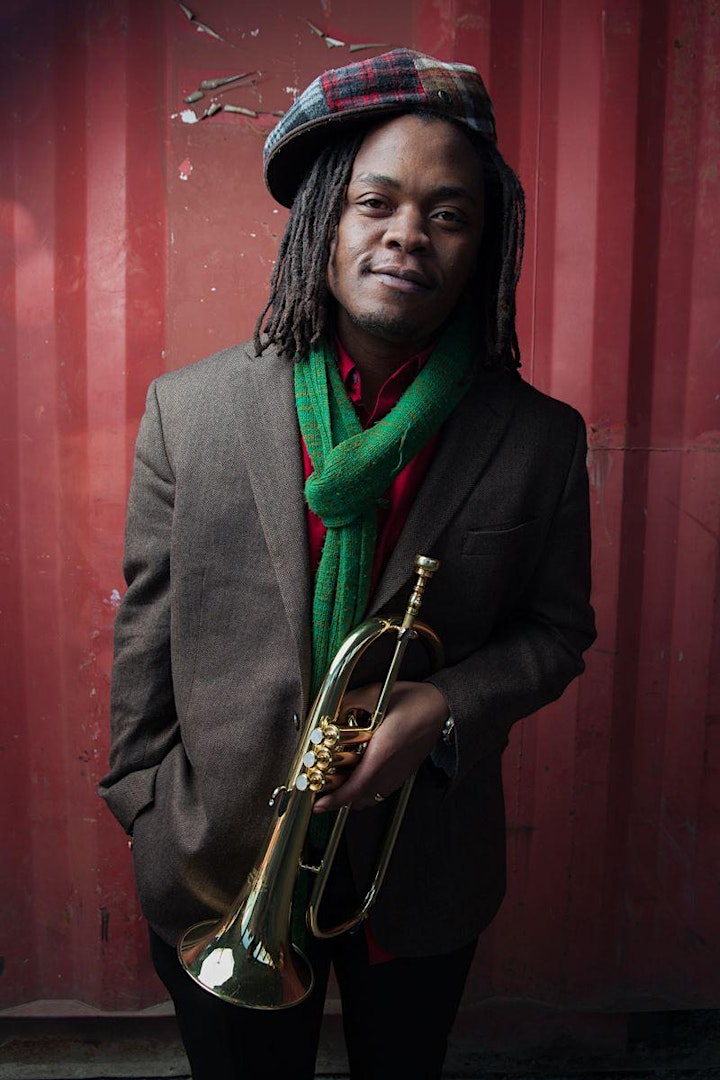 Lesedi Ntsane
Lesedi Ntsane is a South African-born, New York based Trumpet player. In addition to playing regular live shows in and around New York City, he has been working at Jazz at Lincoln Center as part of the Webop Educational program and currently the Syncopated Leadership series with Fordham University. He has enjoyed working with Riza Print up, Dr. Patrice Turner, Adam Platt, Anthony Lee, Vanessa Cruz, Tim Sullivan, Julian Smith, Harlem Children Zone, the Washington Heights Head Start program, Ifetayo Cultural Arts Academy, and currently the Ocean Hill Collegiate In 2021- 2022, Lesedi served on the New School University Student Senate, as the Financial Education Lead and EISJ and Honorary Degree committees. He graduated from The New School with a Master's in Arts Management and Entrepreneurship, with a minor in civic service design.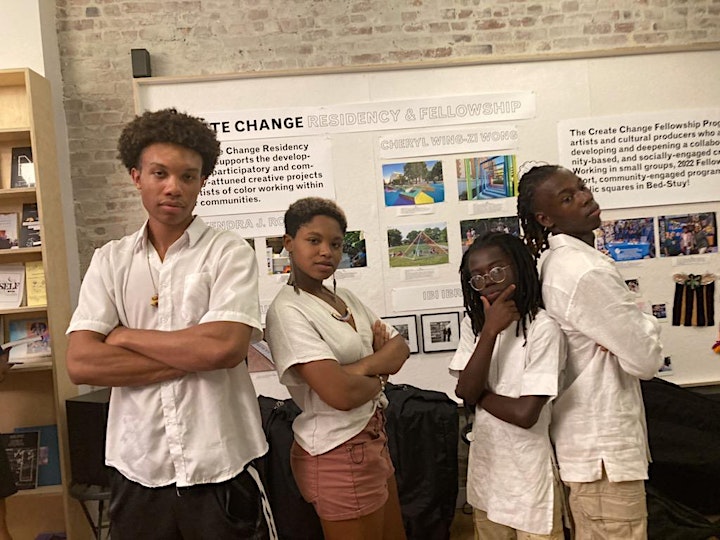 4 The People
4 The People is a collaboration of poetry, double bass and drums to the tune of social justice. These Brooklyn-based performers empower, challenge, and inspire through an immersive music and spoken word experience.
Malcolm Melendez, 18, is a skilled cello and double bass player who enjoys, classical music, jazz music, and art collaborations. Sundiata Gittens, 18, has been playing percussion since before he could walk. He plays the Conga, Songba and Djun Djun and produces his own music as well. Emilio Gittens, 14, plays the Conga, Djembe and Quinto. He is a song writer and soccer player in his free time. Kai Diata Giovanni, 17, is 4 The People's spoken word poet. She has been performing poetry since kindergarten age and published her first anthology at 15 years old.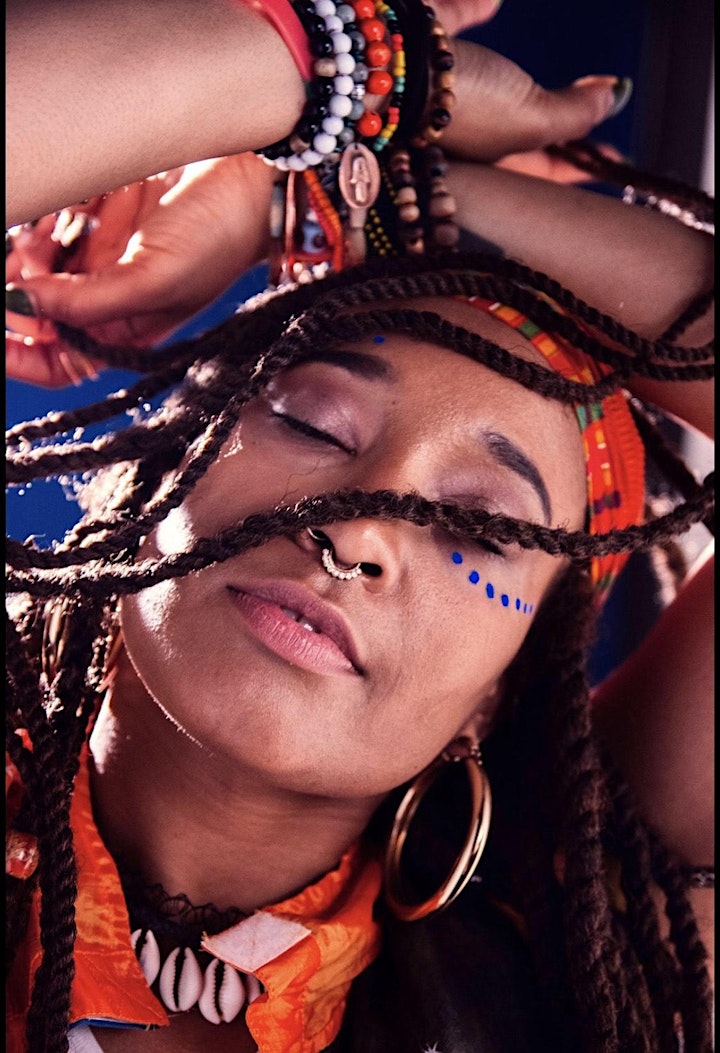 Dani Criss
Affectionately known as Dani Criss, The Artist; a multidisciplinary artist, artistic educator, and community organizer hailing from Durham, North Carolina, now based in Brooklyn, NY. Leading with a passionate perspective driven by her roots and studies of the African Diaspora, as well as the advancement of her people everywhere. Educating through the principles of the Diaspora, inspiring an appreciation, acceptance, and historical experience in each interaction; Using movement and knowledge as the source to obtain liberation while discovering ancestral connections within the liberative practices. An artistic educator in primary and higher education in New York, NY and surrounding areas including NYC Public Schools, Nassau Community College, Mark Morris Dance Center, and several arts organizations around the city. Check out www.danicriss.com for more information.
About The Billie Holiday Theatre
The Obie and AUDELCO Award-winning Billie Holiday Theatre founded in 1972 by Restoration, as a not-for-profit theatre whose mission is to present the exquisite, ever-evolving and complex diversity of voices within the African Diaspora as world-class storytelling for the community. The Billie is one of the last remaining theaters forged in the Civil Rights/Black Arts Movements and the only theatre run by people of color in the cultural mecca of Brooklyn.
About Bridges: A Pan-Afrikan ARTS Movement
Bridges: A Pan-Afrikan ARTS Movement: An arts catalyst organization, presenting opportunities for international arts exchange, community advocacy and global partnerships. Since 2015, this Brooklyn based organization has worked in collaboration with local artists and organizations in New York, Sudan and South Africa. A few events the organization has participated in are: South African Freedom Day in Brooklyn (NY 2015), NY to Tshwane (2015), Kwanzaa (NY 2017), Arts Action for Sudan (NY 2019) Poetry in New Orleans (2017), World Poetry Day (Virtual 2020), Women of Words Poetry Festival (Virtual 2020), Sisi ni suluhisho • Siyizixazululo •We are Solutions (Virtual 2020), Black Love (Virtual 2020), AMPLIFY! Youth Arts in Action (Virtual 2020), Juneteenth: Lyrical Liberation (2021-22) Bridges has also presented at numerous workshops and performances for schools and community organizations in New York and South Africa.